---
Important Message About Food
The Department for the Aging will be delivering meals directly to your home. RSS will no longer be providing meals.
If you are 60 or over or know of a person 60 or over; have little to no access to food and in need of a home delivery, please let us know. Leave you name, address and phone number and we will send it to the Department for the Aging to be added to their list for delivery. You can also call DFTA's Aging Connection at 212.244.6469 or call 311. 
Call 718.884.5900
Email us at info@rssny.org
---
Resources as of 4/4/20
(New Items Boldfaced on Fridays)
Food
NOW AVAILABLE!
Three free grab-and-go meals will be available for ALL New Yorkers in more than 400 Meal Hubs across the 5 boroughs. To find a location near you visit http://schools.nyc.gov/freemeals or text "NYC FOOD" or "COMIDA" to 877-877. Here is also a direct link to the food locator for the place nearest you.
Meal Hubs sites operate Monday through Friday from 7:30AM-11:30AM for children and families and 11:30AM-1:30PM for adults. Vegetarian and halal options are available at all sites. All adults and children can pick up three meals at one time. No one will be turned away. No registration or ID required.
The following local stores are delivering
Bens at Knolls Crescent, Mon-Fri from 12-3, 718.884.4500

Key Food on Riverdale Avenue, 718.581.5101

Tierney's Fine Food - Mosholu Avenue, delivers to immediate area, 718.796.4996

Park Terrace Deli - Delivers to Inwood and Marble Hill, 212.569.5990

 Invisible Hands is a volunteer organization that shops for seniors in this area. They are also looking for volunteers.

Food can also be delivered through delivery services like Amazon, Instacart, Peapod. Accounts have to be set up and you must order online.

Many stores such as Shop and Stop, Target are having early morning hours for seniors only. Please check with the store first.
Medicine
All local pharmacies are doing medication deliveries.
Other Services
NYS Covid-19 Emotional Support Hotline - 844.863.9314
Text 'COVID' to 692692 (NYC-NYC) for accurate, real-time updates from Notify NYC and NYC Emergency Management. (Alerts are also available in Spanish by texting 'COVIDESP' to 692-692.) 
Visit ​seniorplanet.org ​to see all available courses/resources/streaming/events 
Learn about Dorot's University Without Walls - Or call ​212-769-2850
LiveOn NY has some great resources on their site including nutrition resources for older adults
Benefits
To apply for SNAP, SCRIE/DRIE, Medicaid and more contact LiveOn NY Benefits team hotline​ at 212-398-5045​ or email: ​benefits@liveon-ny.org 
The United Way has established a COVID-19 Community Economic Relief Fund; they will help individuals with bills, rent and food. Call (866) 211-9966. 
Please make sure to avoid COVID-19 scams! Please look at this link to learn tips to keep scammers away.
---
To Our Beloved RSS Community:
The City has closed all senior centers for programming and congregate meals. We do not have a targeted re-open date from the city. This being done to protect all of us. It is very important that you follow guidelines issued by the city and by your own doctors.
We know that this is a stressful, scary time. We need to be strong New Yorkers together. RSS will be here to help older adults in the area in as many ways as possible. 
If you are a member or an older adult in our area that needs help please call us at 718.884.5900 or email us at info@rssny.org. We will be picking up phone calls and responding to them as soon as we can.

We will miss seeing all of you on a day-by-day basis but we know we will be together soon and talking in the interim! Be safe and stay healthy!
Call Us at 718 884-5900
---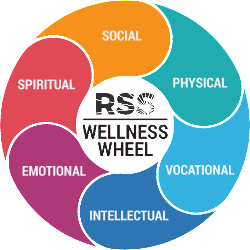 Wellness Wheel
Focusing on Wellness In All Aspects of our Programs and Services
RSS - Riverdale Senior Services -  is more than just a meeting place. RSS is a place for emotional, cultural and physical engagement. We're a multi-faceted center - an exercise studio, an arts studio, dance floor, lunch spot and social hub - all in one place!
RSS champions older adults and their friends and families by giving community members the opportunity to live better, happier and healthier lives. 
All programs and services are free to any one 60+. We are located in the Bronx, New York.
Come join us! We are the Center for Ageless Living.