Education & Entertainment Resources
---
Important Messages
You Must Fill out the Census!
What's at Stake - BILLIONS in federal funding as well as the number of seats we have in Congress. The Bronx is still significantly behind other communities in filling out the census. That money and our voice will be affected if every one of us does not fill out the census! If you have filled out the census please make sure that your friends and family also fill out the census.

For the first time, you can complete the census online and by phone, in addition to the traditional mail-in form.
To complete the 2020 Census online, go to my2020census.gov.
To complete the 2020 Census by phone, please call:
English - 844-330-2020
Spanish - 844-468-2020
Chinese (Mandarin) - 844-391-2020
Chinese (Cantonese) - 844-398-2020
Vietnamese - 844-461-2020
Korean - 844-392-2020
Russian - 844-417-2020
Arabic - 844-416-2020
Tagalog - 844-478-2020
Polish - 844-479-2020
French - 844-494-2020
Haitian Creole - 844-477-2020
Portuguese - 844-474-2020
Japanese - 844-460-2020
Telephone Display Device (TDD) - 844-467-2020
IF YOU ARE UNABLE TO GET FOOD & ARE 60+
Call 311 or RSS at 718.884.5900 or email info@rssny.org
Missing Deliveries / Cancellations / Changes
• To cancel, change or submit a complaint about food or food deliveries call 311 and say "Get Food" or submit feedback online here - nyc.gov/seniorfoodresources.
Grab and Go Meals
Meal hubs at schools will continue operating on a summer schedule. Starting on June 29th, Meal Hub summer service will operate at approximately 400 sites across the city and continue regular service from 7:30 AM to 1:30 PM, Monday through Friday. Grab-and-go meals are available to any New Yorker who needs them. To find a location near you visit free meals or text "NYC FOOD" or "COMIDA" to 877-877. Here is also a direct link to the food locator for the place nearest you. No one will be turned away. No registration or ID required.
---
Resources 
(New Items Boldfaced AND PURPLE on Fridays)
Note: Listing of these resources is not an endorsement of their services.
Do you know about  Last Stop, the outdoor fridge where you can donate food? It's part of the "friendly fridge" initiative. There's one on 5977 Broadway and 8 West Kingsbridge Road (Fordham Manor). If you have city meals to donate or other items that need refrigeration they can be put there.
Fireworks have become a huge problem this summer. If there is an issue in your neighborhood you can reach the FDNY Fireworks Enforcement Unit at (718) 722-3600.
Cooling Assistance Benefit
The City Human Resources Administration has released the application for the Cooling Assistance benefit, which helps eligible households buy and install an air conditioner or fan up to a cost of $800. The Cooling Assistance benefit opens May 1, 2020. The deadline to submit applications is August 30, 2020. Air conditioners are provided on a first-come, first-served basis to eligible applicants. Call the HEAP Conference Line at 212-331-3126 if you have questions about cooling benefit or need help from an operator. Click here to determine Your Eligibility.
NY Statewide Senior Action Council:
A conversation with Attorney General Letitia James on August 10 at 1 PM. Learn more about this event and other things the Action Council is doing. 
Food
The Hunter College New York City Food Policy Center has put together an excellent resource guide covering the Riverdale/Fieldston area which they are continually updating. It has a section on special supermarket hours, stores and restaurants offering food delivery and more. They are also doing these resource guides for many other neighborhoods in the city. You can find the complete list of guides with this link.

Kosher Food is available through Riverdale Kosher Market.  It's the shopping center in Skyview for kosher food. You can order online. You cannot call in orders. There are not specific early hours for seniors but you can come in when they open which is at 8.

 Invisible Hands is a volunteer organization that shops for seniors in this area. They are also looking for volunteers.

GoGo Groceries allow you to order groceries through an online distributor (in this case Instacart) WITHOUT having a smartphone. This is a good resource for families and friends who don't have a computer or smartphone. Instacart is backlogged in the Bronx at this time and delivery could be as long as two weeks. To contact GoGo Groceries call 1 (855) 222-4919.
Medicine and Other Supplies
Other Services
Bronx Legal Services is open for business to assist with housing, foreclosure, immigration, unemployment insurance, consumer debt, access to public benefits, small business sustainability, and many more issues. You can access their services by calling 917-661-4500, Monday through Friday, 10 am to 4 pm.
The NYC Department of Consumer and Worker Protection's Office of Financial Empowerment is providing free financial counseling over the phone with counselors who can help New Yorkers manage their bills amidst the coronavirus crisis, understand student loans, and more. Appointments can be booked at nyc.gov/talkmoney.
Do you know someone who needs internet access? Here's a link to low-cost options. We need as many people as possible online during this time.
The Lighthouse has a free tele-support group for adults with vision learn. Click here to learn more.
NYS Covid-19 Emotional Support Hotline - 844.863.9314. You can also connect with NYC Well through phone text or chat - click here.
Text 'COVID' to 692692 (NYC-NYC) for accurate, real-time updates from Notify NYC and NYC Emergency Management. (Alerts are also available in Spanish by texting 'COVIDESP' to 692-692.) 
Visit ​seniorplanet.org ​to see all available courses / resources / streaming / events 
Learn about Dorot's University Without Walls - Or call ​212-769-2850
LiveOn NY has some great resources on their site including nutrition resources for older adults
GoGo turns on-demand transportation companies like Lyft and Uber into services that can be accessed and monitored without a smartphone. They also have a shopping and meal delivery service.
For Elder Abuse and Crime Victims: Bronxworks, Safe Horizon, Shopps Elder Abuse Program
Tech Support
National Tech Hotline: 920-666-1959 from Senior Planet. It is open from 9am – 5pm EDT, Monday through Friday. They will help with any technology questions including setting up your computer or laptop. Please leave a message if they are on another call and they will get back to you. 
For Your Pets
Pet owners impacted by COVID-19 can call the Pet Hotline at 1-877-204-8821 from 8 a.m. to 8 p.m., 7 days a week. 

The Pet Hotline will help mitigate people's questions and concerns about keeping their pets during the COVID-19 crisis, as well as connect callers to pet relief resources such as subsidized emergency veterinary care and food and supply distribution services. For NYC residents with pets requiring a higher level of care, cases will be escalated for coordination of temporary placement or supplemental care of animals.
Benefits and Job Opportunities
Stimulus Checks:   Individual US taxpayers may be eligible for up to $1,200 each in economic stimulus payments. To check the status of your stimulus payment go to IRS Coronavirus Economic Impact Payments. Those receiving social security benefits do not need to file. Stimulus support will not be considered income. Some people are receiving their stimulus money through an Epicard. Here's what it looks like - some people have mistakenly thought it was a promotional credit card.  if you accidentally throw away your debit card, you can receive a replacement by calling 800-240-8100 (option 2 from the main menu). The IRS recently added this "how to" info to its website.
To apply for SNAP, SCRIE/DRIE, Medicaid and more contact LiveOn NY Benefits team hotline​ at 212-398-5045​ or email: ​benefits@liveon-ny.org 
Covid Testing
NYC is now encouraging all New Yorkers to be tested for Covid-19. Go here to learn more details.
Antibody Testing: New York City offers free antibody tests to New Yorkers in partnership with BioReference Labs. Bronxites can get tests at 4006 Third Avenue. Priority will be given to local communities, and results will be provided in 24-48 hours. For additional information, or to schedule an appointment for a test, click here or call 888-279-0967.
All CityMd Urgent care centers in the Bronx are offering testing.
SCAMS
---
To Our Beloved RSS Community:
The City has closed all physical senior centers for programming and congregate meals. We do not have a targeted re-open date from the city. This being done to protect all of us. It is very important that you follow the guidelines issued by the city and by your own doctors.
We are still open for business as a virtual center!! You can still get assistance from our social workers, go to our support groups and attend a wide variety of classes and special events online and through the phone. PLEASE JOIN US!
If you are a member or an older adult in our area that needs help please call us at 718.884.5900 or email us at info@rssny.org. 
Be safe and stay healthy!
Call Us at 718 884-5900
---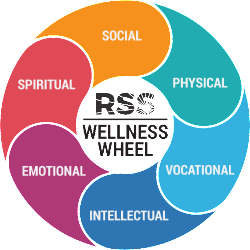 Wellness Wheel
Focusing on Wellness In All Aspects of our Programs and Services
RSS - Riverdale Senior Services -  is more than just a meeting place. RSS is a place for emotional, cultural and physical engagement. We're a multi-faceted center - an exercise studio, an arts studio, dance floor, lunch spot and social hub - all in one place!
RSS champions older adults and their friends and families by giving community members the opportunity to live better, happier and healthier lives. 
All programs and services are free to any one 60+. We are located in the Bronx, New York.
Come join us! We are the Center for Ageless Living.