Call Us at 718 884-5900
RSS is 2018 Ready New York Senior Center of the Year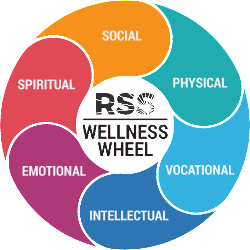 Wellness Wheel
Focusing on Wellness In All Aspects of our Programs and Services
RSS - Riverdale Senior Services -  is more than just a meeting place. RSS is a place for emotional, cultural and physical engagement. We're a multi-faceted center - an exercise studio, an arts studio, dance floor, lunch spot and social hub - all in one place!
As we enter our 45th year of service, RSS continues to champion older adults and their friends and families through every aspect of our operations and facilities, giving community members the opportunity to live better, happier and healthier lives. 
All programs and services are free to any one 60+. We are located in the Bronx, New York.
Come join us! We are the Center for Ageless Living.
---
News & Events
We LOVE this story because it shows the power of goodness and how social media can be powrful in spreading the word. The RSS knitting group creates beautiful handmade knitted goods that they donate to causes and also to raise funds for the Center.
Since last spring RSS has taken on the issue of diverting waste from landfill and recycling. A big focus of this is our composting project. To date, we have composted over 1,000 pounds of food waste!Food waste is a major issue in the United States. According to the USDA "In the United States, food waste is estimated at between 30-40 percent of the food supply.
More than 4,300 older New Yorkers across the five boroughs participated in Ready New York emergency preparedness training this year
December 7, 2018 – The New York City Emergency Management Department and the Department for the Aging (DFTA) presented the sixth annual Ready New York Senior Center of the Year Award to Julie Dalton, executive director for RSS – Riverdale Senior Services, for her ongoing commitment to preparing seniors for emergencies. The center provides daily services and programs to about 300 older adults, including exercise, art, gardening classes, on-site health counseling and benefit review services, and support groups. The center also provides a hands-on adult day program for people with early memory loss, and hosts a knitting club, which donates caps, mittens, and other clothing items to the maternal unit on Rikers Island.    
---