The Center will be closed on Tuesday, December 24 and Wednesday December 25.
We will close at 1 PM on Tuesday December 31st and all day on Wednesday, January 1st.
Upcoming Events that Need Registration
Screenwriting 101 Free Class starts December 13
Women's Circle Holiday Party, Thursday December 19
RSS Holiday Party, Friday December 20
Call Us at 718 884-5900
---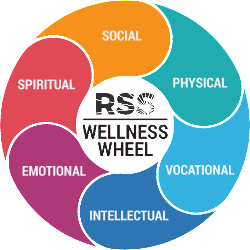 Wellness Wheel
Focusing on Wellness In All Aspects of our Programs and Services
RSS - Riverdale Senior Services -  is more than just a meeting place. RSS is a place for emotional, cultural and physical engagement. We're a multi-faceted center - an exercise studio, an arts studio, dance floor, lunch spot and social hub - all in one place!
RSS champions older adults and their friends and families by giving community members the opportunity to live better, happier and healthier lives. 
All programs and services are free to any one 60+. We are located in the Bronx, New York.
Come join us! We are the Center for Ageless Living.
---
Volunteer

Are you interested in helping others, sharing your time and talents and working on interesting projects with new friends?
Volunteer With Us

Caregiver support includes Individual counseling, workshops and resources. We also partner with major caregiver organizations. Learn more.
---
News & Events