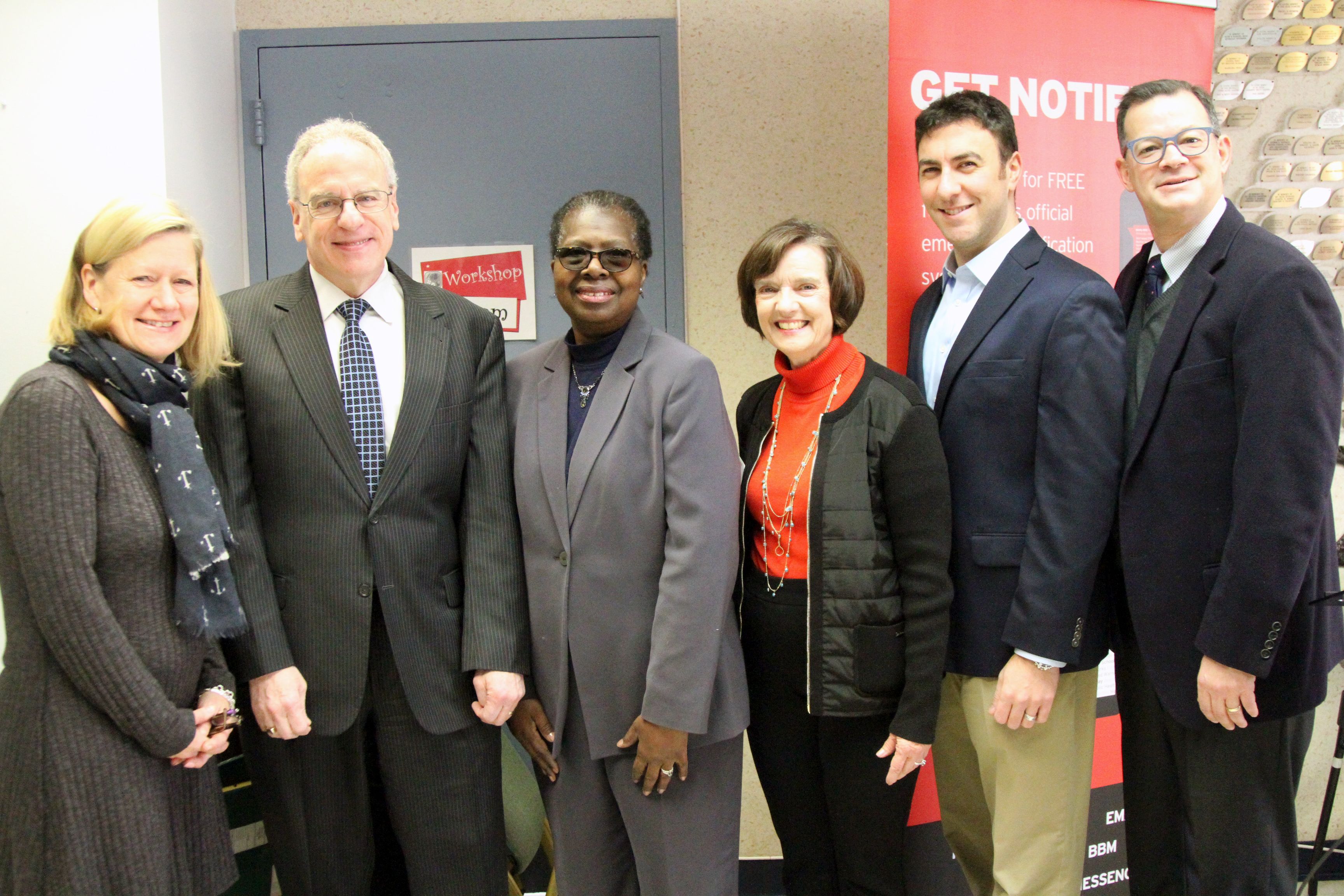 More than 4,300 older New Yorkers across the five boroughs participated in Ready New York emergency preparedness training this year
December 7, 2018 – The New York City Emergency Management Department and the Department for the Aging (DFTA) presented the sixth annual Ready New York Senior Center of the Year Award to Julie Dalton, executive director for RSS – Riverdale Senior Services, for her ongoing commitment to preparing seniors for emergencies. The center provides daily services and programs to about 300 older adults, including exercise, art, gardening classes, on-site health counseling and benefit review services, and support groups. The center also provides a hands-on adult day program for people with early memory loss, and hosts a knitting club, which donates caps, mittens, and other clothing items to the maternal unit on Rikers Island.    
 
"Ms. Dalton and the RSS team have done an exceptional job at putting their community and their older adults first when preparing for emergencies in New York City," saidNYC Emergency Management Commissioner Joseph Esposito. "We are also thankful to the Department for the Aging for their partnership in helping to educate New York's seniors about the importance of emergency preparedness."
"We are pleased to help present this award to an exemplary senior center that understands the importance of preparedness for vulnerable older New Yorkers," saidNYC Department for the Aging acting Commissioner Caryn Resnick. "RSS members can rest assured knowing that in the event of an emergency, they are well-prepared with a comprehensive plan of action."
"RSS is humbled to receive the Ready New York Senior Center of the Year award. We are blessed to have a staff who truly cares about all our members, strong community partners and extensive support from both the NYC Fire and Police departments, NYC Emergency Management and the NYC Department for the Aging," said Julie Dalton, executive director for RSS – Riverdale Senior Services. "We continuously improve on how we help our members prepare for a wide array of emergencies.  We look for new ways to communicate ― including the recent launch of our web page dedicated to emergency management.  Most of all, we want to thank the incredible members of RSS ― they are an engaged, committed community interested in learning and sharing best practices."
As part of the emergency preparedness program, members received regular preparedness presentations and are reminded to pack a Go Bag with basic supplies, medical information, and contact names and numbers. Ms. Dalton has shown dedication to emergency preparedness by coordinating numerous multilingual, interactive, and educational workshops for seniors. Additionally, the center has developed a strong relationship with the local fire department and with the NYPD 50th Precinct, both of which conduct regular safety presentations for seniors. During heat emergencies, the senior center serves as one of the city's more than 500 cooling centers activated to help New Yorkers beat the heat.     
"A well-deserved congratulations is in order to Riverdale Senior Services, this year's recipient of the NYC Emergency Management and NYC Department for the Aging 'Ready Senior Center of the Year' award," saidNew York State Assemblyman Jeffrey Dinowitz. "RSS has long been a staple of the Northwest Bronx community, not only because of their wonderful breadth of programming for seniors, but also for their role as a cooling center on heat advisory days during the summer. In particular, a congratulations is deserved for the members of RSS who have long advocated for important safety concerns in our community. Kudos to these seniors and the administration, led by Executive Director Julie Dalton, at Riverdale Senior Services for all of their hard work."
"Preparing seniors for an emergency situation is a difficult but vital task. Yet, year after year, the Riverdale Senior Services organization ensures that our aging community members are ready and equipped for those unfortunate moments," said New York City Council Member Andrew Cohen. "I am thrilled that The New York City Emergency Management Department and the NYC Department for the Aging have awarded Riverdale Senior Services and their exceptional executive director, Julie Dalton with the '2018 New York Senior Care Center of the Year Award.' I thank RSS for their ongoing commitment to offering accessible, compassionate, and high caliber services that continue to make our community a safer place."
"Community Board 8 is very proud of the hard work done by Riverdale Senior Services to educate and prepare our older adults on emergency preparedness," said Rosemary Ginty, chairperson for Bronx Community Board Community Board 8. "We comment them for their hard work with our local police precinct and fire department to ensure safety of our older neighbors. We are very fortunate to work with and support dedicated organizations, like Riverdale Senior Services and are confident their hard work will continue for our seniors."
"Julie Dalton and the entire staff of Riverdale Senior Services have shown once again that they are at the forefront of supporting ageless living and helping seniors to live their safest and best lives. It is an honor to work with them and to see them recognized for what they contribute to the lives of seniors in our community," saidEric Dinowitz, Aging Committee chairperson forBronx Community Board Community Board 8.
In 2018, NYC Emergency Management's Ready New York program hosted over 60 presentations for older adults and trained more than 4,300 older New Yorkers in preparedness. So far, more than 200,000 My Emergency Plan workbooks have been distributed to New Yorkers. My Emergency Plan is designed to help New Yorkers create an emergency plan. The workbook guides users through establishing a support network, capturing important health information, evacuation planning, and gathering emergency supplies. First responders or caregivers can also use the workbook to help people during an emergency. The Ready New York: My Emergency Plan is available in multiple languages, including English, Spanish, Chinese, Russian, Arabic, Bengali, Haitian Creole, Italian, Korean, French, Polish, Urdu, and Yiddish.
About the Ready New York Program
The Ready New York program outlines three important strategies to preparing for emergencies:
·       Get Ready: Make a Plan – Have at least two emergency contacts – one local and one out-of-area – who you can call in an emergency. Practice your plan with everyone in your home.
·       Get Set: Prepare a Stay-at-Home Kit –During emergencies that require you to stay at home, it is important to have extra food and water for everyone in the house and a battery-operated radio for news updates.
·       Get Ready to Go: Pack a Go Bag – During emergencies that require you to leave your home, have a Go Bag with emergency supplies.
This year's award ceremony was held at the RSS – Riverdale Senior Services in the Bronx. Department for the Aging Assistant Commissioner Linda Whitaker joined New York City Emergency Deputy Commissioner Christina Farrell to present this year's award.