RSS Book Club - September Selection - "Rules of Civility"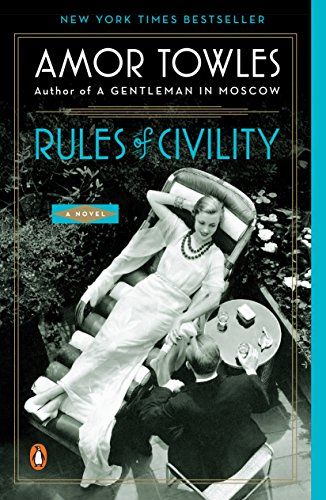 The RSS book club is back! Below is the September Book Club Selection.
Rules of Civility by Amor Towles
On the last night of 1937, twenty-five-year-old Katey Kontent is in a second-rate Greenwich Village jazz bar when Tinker Grey, a handsome banker, happens to sit down at the neighboring table. This chance encounter and its startling consequences propel Katey on a year-long journey into the upper echelons of New York society—where she will have little to rely upon other than a bracing wit and her own brand of cool nerve. (368 pages)
Leading the book club will be Gail Edwards. Gail works for an educational organization in New York City as Director of Human Resources. When she is not working, Gail spends her time reading mostly fiction, teaching knitting, and perfecting her love of salsa dancing.
You can get the book in a variety of ways:
* As an e-book through your library - https://www.nypl.org/books-music-movies/ebookcentral
* Online through Amazon in a variety of formats - paperback, cloth, kindle e-book or audio book - amazon.com
* At Barnes & Noble - it is available in their Yonkers and Westchester stores and online at bn.com
* Many public libraries are now open in a limited way - you can take out books
If you have trouble getting the book, let us know and we will try to help.
IF YOU ARE ALREADY REGISTERED FOR THE BOOK CLUB YOU DO NOT NEED TO REGISTER AGAIN! You are an official book club member.