Due to High Demand, a SECOND Workshop Has Been Scheduled for Friday, Oct 30 at 3 PM. You need to attend the Oct 25 lecture to participate in the workshop. 
Sunday, October 25 at 3 PM
Virtual Van Gogh Art Trip Fundraiser 
Led by April Lombardi
Be Part of A Special Event to Raise Money for the RSS Emergency Fund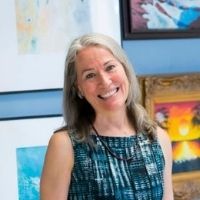 Follow the footsteps and artistic development of Vincent van Gogh from the Netherlands to the South of France in this well-researched virtual tour and RSS Fundraiser. April Lombardi will take you through a detailed itinerary to see many of the places that inspired the paintings from each location visited in this presentation.  You will see his paintings and how his art evolved with each location.
After this virtual journey, a smaller group (no more than 25 people) will share in an online pen and ink techniques lesson with April using nearly the exact materials that van Gogh used when he sent drawings of his paintings in letters to his brother Theo. As part of the fund-raiser, those who register early for the pen and ink lesson will have the opportunity to receive the reed pen, ink, and paper before the day of the fundraiser, as a thank-you-from-the-bottom-of-our-hearts gift from RSS.
Many of you know April and have experienced her fun, free, online travel watercolor classes sponsored weekly by RSS. This fundraiser presentation and art lesson will be different than her usual class format with a more detailed itinerary that you will receive in an email follow-up as well as the opportunity for individualized attention during the van Gogh pen and ink drawing lesson. She is an expert in the field of art education and art history. She loves to travel and plan itineraries for the richest experiences at home and abroad. April's 40-year career in art includes over 27 years of teaching drawing, painting, computer graphics, and Advanced Placement Art History at LaGuardia High School of Music & Art and Performing Arts, near Lincoln Center. 
All donations are tax-deductible to the extent allowed by law.