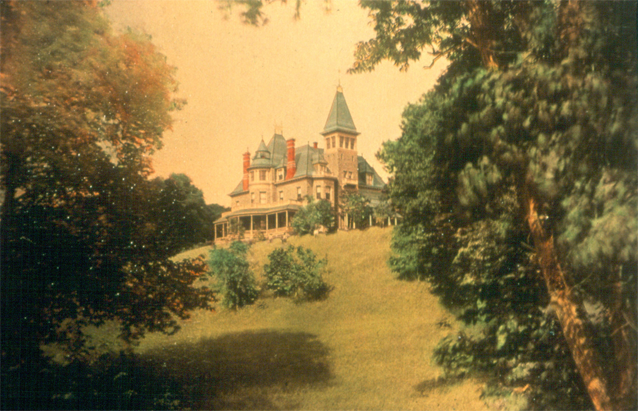 To the tune of classical music our driver Emerson drove along the Saw Mill River Parkway. Along the quaint drive we viewed the vintage architecture with bay windows while off to the left we could see the Hudson River down the steep hill streets.
Once at the Hudson River Museum, 16 of us began the 1 PM tour of the "Glenview Mansion" of The John Bond Trevor family, built in 1877 in 2 years. Trevors made his great financial gain on Wall Street. He lived here with his second wife Emily Norwood and four children until his death. In 1990 the mansion was worth in excess of 6 million.
In 1922 most of the furnishings and artifacts were sold off. In 1969 preservation began. Most of the furnishings are from the same Victorian period, though not original.
The sitting room was for greeting friends. In the library there was ebonized decorated wood and floral patterns throughout, typical of the Victorian era. Trevor was sure to educate his wife and children. The floral motif showed the family could even develop a special "mum." There are 26 rooms in the mansion.
On the side-board there were carved images of fairy tales, so that the children might be educated in the tradition. The images of the fox and the crane. The fox couldn't eat the crane's food and vice versa, showing compromise and hospitality. Trevor was very generous.
Once there was even a stuffed elephant in taxidermy, but it eventually disintegrated. Strangely enough the servants had greater access to the rooms than the family, who had to use the main elaborate staircase only.
In the Great Hall there was a very elaborate tile pattern, seemingly perfect except for a couple of discernable mistakes. Our Docent, Pedro's theory was that there is an Islamic tradition that patterns must have one error, because only God is perfect.
The Riverside String Quartet of the Yonkers Philharmonic Orchestra performed "Hearing Abstractions."
It was wonderful.