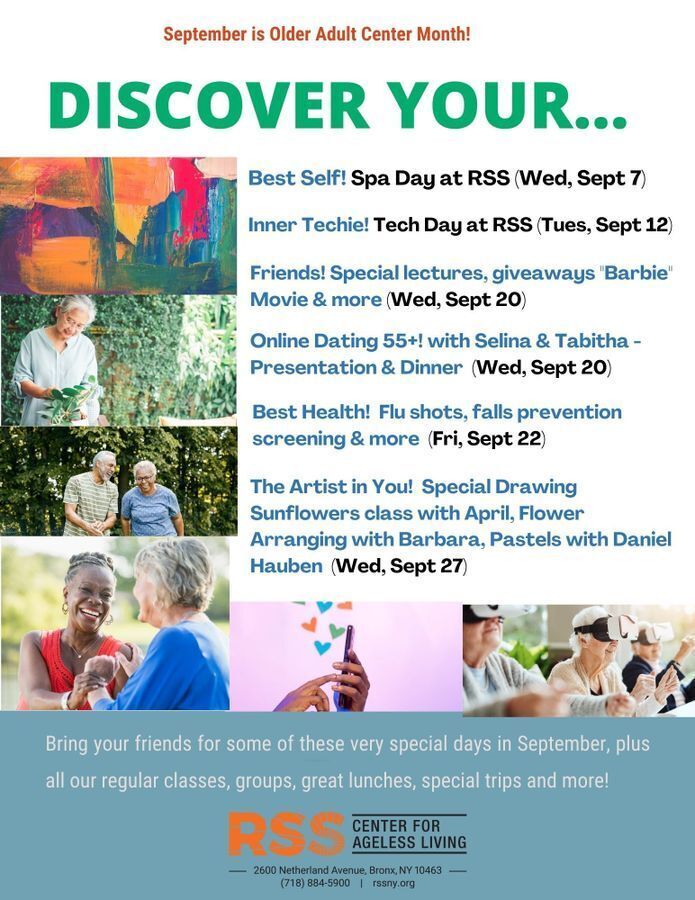 September is Older Adult Center Month!
Every September, the National Council on Aging (NCOA) and the National Institute of Senior Centers (NISC) celebrate National Senior Center Month. Older Adult Centers give aging Americans a place to gather, find events, and improve their daily fitness and health. Many are supported through a mix of city, state, and federal funding and generous donations from members and the community. Plus, our volunteers are critical to helping our centers function!
This year's National Senior Center Month theme is "Discover Your Older Adult Center." The 10,000+ senior centers in communities and neighborhoods across the country provide access to information, opportunities, and support to improve the lives of people in their communities as they age. Celebrated every year in September, National Senior Center Month is a time to shine a light on senior centers, showing the entire nation how vital they are to the health and well-being of a community. Senior centers provide countless hours of support and encouragement to older adults and have become integral to healthcare delivery in our communities by providing COVID-19 guidance, vaccine education, and vaccinations to their participants. They offer a place for older adults to discover their unique interests, talents, and aspirations. 
If you haven't participated in RSS programs, stop by in September (and bring a friend) for lunch, a class, or a trip. We'd love to see you in person or virtually! We have some very special in-Center programs planned for September. See our calendar to review upcoming classes and events. If you have an idea for a program, send a note to info@rssny.org.
---