Drumming Circle Demonstration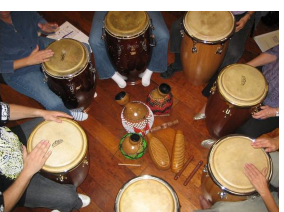 Drumming Circle Demo with Joan DiBlasi, LCSW, PhD writer, and Bodhran (Irish drum) teacher
The Drumming Circle will be a demonstration and participants will use cardboard and sticks and there will be some drums to try
Joan plays the Irish goat skin drum, the bodhrán, and has taught both children and adults the basic skills to accompany a wide-range of music. She has taught at the Irish Arts Center, NYC, Tara Circle, Westchester County, and at various music festivals on the east coast. For years she was a member of the Connaught Regional Airport Band, Fiddlesticks and Celtic Odyssey.
NOTE: If enough participants want the class we will purchase drums and run a weekly program in March.
This is a free event.