Online Dating for Women 55+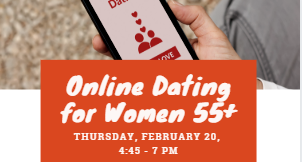 Covers:
* How to pick sites
* How to create your profile
* How to avoid the "wrong match"
* First dates
* Avoiding scammers
* Learning to enjoy the journey!!
Led by Selina Ng and Mary Speciale - who found their perfect match online!
A Woman's Circle Event
Reserve Your Spot!
In RSS Office or Call 718.884.5900 or Online with the form below
Suggested $5 donation for light dinner after the event.