Black Citizenship in the Age of Jim Crow Presented by the NY Historical Society (Hybrid)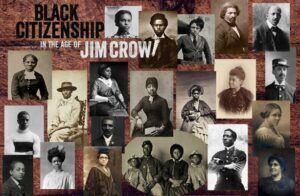 Black Citizenship in the Age of Jim Crow explores the struggle for full citizenship and racial equality that unfolded in the 50 years after the Civil War. When slavery ended in 1865, a period of Reconstruction began, leading to such achievements as the Fourteenth and Fifteenth Amendments to the Constitution. By 1868, all persons born in the United States were citizens and equal under the law. But efforts to create an interracial democracy were contested from the start. A harsh backlash ensued, ushering in a half century of the "separate but equal" age of Jim Crow.
Opening to mark the 150th anniversary of the ratification of the Fourteenth Amendment, the exhibition is organized chronologically from the end of the Civil War to the end of World War I and highlights the central role played by African Americans in advocating for their rights. It also examines the depth and breadth of opposition to black advancement. Art, artifacts, photographs, and media will help visitors explore these transformative decades in American history and understand their continuing relevance today.
The NY Historical Society will be online during the presentation.