The Tenement Museum: A Private Virtual Tour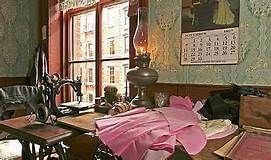 NOTE: If the event has reached capacity (30 people) send an email to info@rssny.org and we will put you on the wait list.
We can only accommodate 30 people at this event. PLEASE DO NOT REGISTER FOR THIS EVENT UNLESS YOU 100% PLAN TO ATTEND. Otherwise, you will be taking space away from someone else. You will be asked the day before the event if you are still planning to attend so someone else can be invited if you cannot attend.
This is a 60-minute interactive virtual visit to the Tenement Museum, with a Tenement Museum Educator. We'll take you inside 97 Orchard Street and through the history of a family who lived there. You'll learn about daily life in the past, see the spaces, meet the people, and get to ask us questions about the history.
On this tour you will meet the The Baldizzi Family. This story features an Italian American family in the 1920s at the height of the depression, and discusses how they found support through difficult circumstances.