The Cloisters: Art, Architecture and History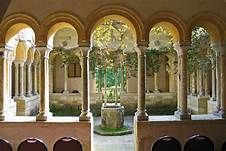 The Cloisters Museum and Gardens
Join well-know art tour operator Sylvia Laudien-Meo on a tour and discussion The Cloisters Museum (near to so many!). We'll look at the history and exquisite collection, as well as its enchanting gardens. The gardens are an important integral part of the museum, created from original European monastery architecture and landscapes with culinary and medicinal plants, as well as those used for dyeing fabrics, specifically those used for the Unicorn Tapestries, which are a major highlight of the collection.
On a shared screen, we will be able to look at the Cloisters' architectural design of buildings and gardens, which integrate many elements from European medieval structures, as well as highlights of the collection.
Sylvia Laudien-Meo is a tour guide, educator and art historian.