Salads - How to Make A Salad that is Anything but Boring!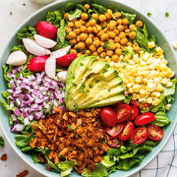 There are salads and then there are SALADS! Come to this workshop to learn how to make a salad that is anything but boring. Leave with a new way to think about eating. Includes cooking demonstration. Registration Required.
Co-Hosts, Barbara Denson and Deborah Johnson. Deborah is a Plant-based Nutritionist who holds a Master of Science degree in Nutrition. As a Nutritionist, Deborah is committed to the journey of helping people make lasting changes by adopting healthy habits for life, at their respective levels of readiness. In addition to her role as Community Health Nutritionist for the North West Bronx Food Justice Project, Deborah teaches Nutrition Education to middle schoolers in Harlem NY.